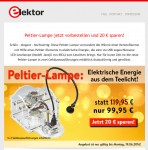 Today I received a newsletter from the publisher Elektor. I am offered a special deal on a Peltier power generator which can power an LED light from a small candle. And this for an astonishing price of €99.95 instead of the normal price of €119.95.
I'll have to buy […]
Continue reading Top deal of the week?